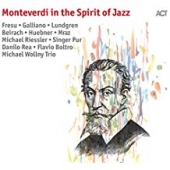 Various Artists
Monteverdi In The Spirit Of Jazz
Label: Act
Genre: Jazz / Avant Garde
Availability
CD Digi / Cardboard €18.49

In Stock
A Happy 450th "in the Spirit of Jazz"
When Richie Beirach recorded his 2002 album "Round About Monteverdi", it made him reflect: "I've been involved with music for my whole life," he said, "but this was something I knew very little about." Such reflections are not uncommon; Claudio Monteverdi is one of those figures in the development of music whose role was crucial, yet whose presence is shadowy.
2017 would have marked his 450th birthday: the composer, singer and viola da gamba player was born in May 1567 in Cremona in Northern Italy. Active in the twilight of the renaissance, Monteverdi was an innovator in vocal music as it moved forward into the baroque. He didn't invent opera - he was born just a few decades too late - but was the first composer to really take it to its heights. He was a visionary, yet his star waned after his death, and he only re-appeared properly in the sights of musicologists and performers in the twentieth century … and of jazz musicians too:
Beirach admitted astonishment at the freshness, depth and genius of this music: "I had no idea there was so much happening during this epoch. I'd always thought that Johann Sebastian Bach had begun something new. Now it's clear to me that Bach is the culmination of what Monteverdi and his contemporaries had worked on." Five pieces from Beirach's album with Gregor Huebner and George Mraz - now out of print for some years - form the connective tissue of this album saluting the Monteverdi anniversary "in the spirit of jazz".
Beirach's ingenuity in adapting Monteverdi's vivid compositions for a jazz piano trio is, however, just a part of the story. German a capella group Singer Pur bring the epitome of poised choral singing to "Amor - Lamento della Ninfa", accompanied by bass clarinetist Michael Riessler and cellist Vincent Courtois. And an opera album obviously needs its Italians: Pianist Danilo Rea and trumpeter Flavio Boltro make their instruments sing from the heart in the "Toccata From Orfeo" and "Lasciatemi morire". Radiant, magical classicism with just a glimpse of modernity prevails in "Se nel partir da voi" from pianist Jan Lundgren with Lars Danielsson and the Gustaf Sjökvist Chamber Choir. Lundgren is also in the Mare Nostrum trio, with Paolo Fresu on trumpet and accordionist Richard Galliano. They imbue "Si dolce è il tormento" with the spirit and the heritage of European folk music.
And finally there is Michael Wollny. At the sessions for the immensely popular album "Weltentraum", he and his trio recorded an adaptation of the "Lamento d'Arianna", which epitomizes the coruscating power of current European jazz.
In this age of the cloud, Monteverdi still has much to offer us.