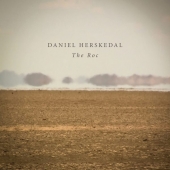 Herskedal Daniel
The Roc
Label: Edition Records
Genre: Jazz / Avant Garde
Availability
LP €24.99

Dispatched within 5-10 working days
Other Formats
Over the last 2 years, Daniel Herskedal, Helge Andreas Norbakken and Eyolf Dale (also on Edition) have defined themselves as one of the most unique and innovative small ensembles in Europe today, bringing together a vast mix of influences from Folk, Jazz, Classical and Arabic music.
The sublime Slow Eastbound Train, released in 2015, took Herskedal's international profile to new heights. He toured extensively throughout Europe and Japan, culminating in a 26min commission from the BBC Concert Orchestra, performed at London Jazz Festival 2016.
A strong Arabic influence runs throughout The Roc, which has its roots in inspiring trips Herskedal made to Syria, Lebanon and Palestine. Themes of place and travelling are ever-present, as they were on Slow Eastbound Train. The titles of some of the compositions originate from the names of scales (Kurd, Bayat, Nahawand To Kurd) and rhythms (Thuraaya) used in them; others from Arabic sayings (There Are Three Things You Cannot Hide; Love, Smoke And A Man Riding On A Camel) and places that inspired the musicians (Hijaz Train Station). The title of the LP itself is a reference to the great bird of pan-Asian mythology.