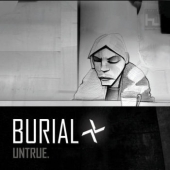 Burial
Untrue
Label: Hyperdub
Genre: Electronica / Ambient / Experimental
Availability
LP x2 180gr €23.99

Out of Stock
Now pressed on 180g vinyl, updated to add the beatless atmospheric tracks that have always been integral parts of the complete CD versions, and also including unique codes for free download. Not re-issues, no new music, nothing remastered - just revised, improved and back in print.
Of all the artists past and present who claim to let their music do their talking for them, Burial is one of the elite band of whom this truly is the case. In fact, so reluctant is he to engage with the cult-of-personality hoopla that surrounds almost every modern producer and musician of merit, that he remains a genuine recluse; he has never appeared live, only one obliquely-angled publicity photgraph is known to exist, and the number of interviews he has given can be counted on the fingers of one hand. Yet despite this, his music speaks loud and wide, and the world has been listening ever since his 'South London Boroughs' EP debut on Hyperdub in March 2005.
His eponymous album, which began life as a low-key release in May 2006, is now widely regarded as the benchmark release of the ever-widening dubstep genre, picking up unanimous critical acclaim along the way, and ending the year heavily featured in many 'best of' polls. Now Burial returns with 'Untrue', a new record of weird soul music, which lovingly processes spectral female voices into vaporised R&B and smudged 2step garage. Vocal lines are blurred, smeared, pitched up pitched down and pitch bent until their content is cast adrift from their original context and they whisper their saccharin sweet nothings into the void. The album continues with the debut's crackle-drenched yearning and bustling syncopations, haunted by the ghosts of rave, but also reveals some new Burial treats with a more glowing, upbeat energy. Kicking off with the skittering 2step syncopations and vocal science of 'Archangel', 'Near Dark' and 'Ghost Hardware', before long it descends into a space of radiant divas and ambience. Where 'Burial' first was humid, suffocating and unrelentingly sad, 'Untrue' is less sunless.
Many of the tracks are so sweet, they become toxic, underscored by the almost geological rumbles of growling basslines. Unlike the overpoweringly melancholic prevailing mood of before, Burial's sound is now better defined as a downcast euphoria typified by the epic, muted optimism of the album's last track 'Raver'. Forget central heating… the radioactivity of this album is all that you'll need to keep you warm this winter.