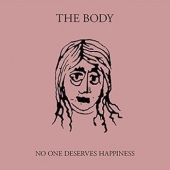 Body
No One Deserves Happiness
Label: Thrill Jockey
Genre: Industrial / Post Industrial / Experimental
Availability
CD Digi / Cardboard €16.99

Dispatched within 5-10 working days
• The Body (Chip King and Lee Buford) are one of the most in-demand bands around. In the past two years alone they have joined forces with the metal bands Thou, Sandworm and Krieg, recorded with Wrekmeister Harmonies and collaborated with electronic producer The Haxan Cloak for 'I Shall Die Here'. They are currently working on a collaboration with renowned dubstep pioneer The Bug. This unexpected list of collaborators and unpredictable touring approach further emphasises the demand for the band's distinctive sound and their open, explorative nature.
• Within the metal world they are one of the few acts willing to push the boundaries of extreme music. This is none more apparent than on The Body's new 'No One Deserves Happiness' album via Thrill Jockey. With this record they have set out to make what they call "the grossest pop album of all time," and they pulled out all the stops to achieve this goal: They brought in Beyonce-inspired basslines, 808 drum beats and soaring vocals contributed by Chrissy Wolpert from The Assembly Of Light Choir and Maralie Armstrong (Humanbeast).
• King and Buford have delivered a massive-sounding album that revolves around crushing themes, incorporating elements of 1980s dance records and hip hop beats into their music while still retaining the signature darkness and heaviness they are known for.