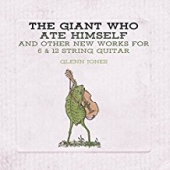 Jones Glenn
The Giant Who Ate Himself And Other New Works For 6 & 12 String Guitar
Label: Thrill Jockey
Genre: Rock / Pop
Availability
LP €23.99

Dispatched within 5-10 working days
The Giant Who Ate Himself And Other New Works For 6 & 12 String Guitar is Glenn Jones at his most vivid, exploring memories old and new through beautifully woven threads of melody. His unparalleled skill and creativity exhibits the mastery Jones possesses of his craft, further cementing his position as a pillar in American Primitive guitar music. Recorded in New Jersey by aura Baird and mixed by Matthew Azevado, The Giant Who Ate Himself And Other New Works For 6 & 12 String Guitar, make for an exceptional evening of listening.

The album's title is itself is an homage for Jones' mentor John Fahey, whose friendship with Jones spanned 25 years. The people whom Jones surrounded himself with too share a presence in the pieces throughout the album. "A Different Kind of Christmas Carol" took on an entirely new life for Jones after his curmudgeonly, Scrooge-like introduction to the song at a show in Pennsylvania was met with beaming enthusiasm from a child. The arching journey of "From Frederick To Fredericksburg" recounts a day Jones spent with old friend and collaborator the late Jack Rose while visiting renowned 78 collector Joe Bussard and their journey home late into the night. Sounds of the rural New Jersey outdoors of the recording studio even fnd their way onto the album with the sound collage piece "River In The Sky."

Jones approaches his compositions frst and foremost as concepts, emotions, and colors. Every step in his process of writing and recording is in service of creating a distinct character for each piece. According to Jones, "To get that sense of place and time, you have to let the world into the recording." By giving glimpses of the colorful personalities who have affected him, Jones' The Giant Who Ate Himself in turn shows us who he is: a master of his craft, continuing to reach for more.