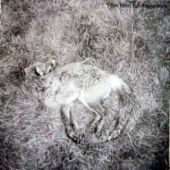 Third Eye Foundation
Semtex
Label: Ici D' Ailleurs
Genre: Electronica / Ambient / Experimental
Availability
LP x2 +MP3 COUPON €19.99

Dispatched within 5-10 working days
As we are now celebrating the 20th anniversary of the release of The Third Eye Foundation's Semtex, one of the most influential drum & bass albums of its time, it is worthwhile revisiting the career of Matt Elliott, its composer. Matt was not even 16 while he decided to stop his studies to devote himself to his passion for music. He got a job at the famous Revolver Records in Bristol.This was an experience that profoundly influenced Matt and a period in which he forged his musical culture. Since 1993, under The Third Eye name, he appeared on albums by Movietone and Flying Saucer Attack, and started his own band with Kate Wright and Rachel Brooks - Linda's Strange Vacation, which later became the name of his own micro-label on which he released the very first songs from The Third Eye Foundation.
In 1995, Matt was one of the very few artists involved in the tribute album to the famous US Krautrock duo Silver Apples, Electronics Evocations. He was then invited to open for them on their US reunion tour. In 1996, he finally released his first album as The Third Eye Foundation, Semtex, on his own label with support from Domino Recordings. It was recorded in a squat which he shared with Matt Jones from Crescent, on a 4 track recorder borrowed from Dave Pearce from Flying Saucer Attack. It was mixed with headphones way too loud which resulted in permanent hearing loss at around 3 khz. The result is brutal and uncompromising, and features a mix of noisy ripped up guitars and hectic drum machines with Debbie Parsons' vocals on some songs.
Semtex is the antithesis of electronic dancefloor music and was to brand its style into Matt's discography where social unrest, loneliness, political confusion, anger and anti-establishment feelings are regular themes. The Third Eye Foundation have released 5 albums in total along with a large number of singles, EPs, collaborations and remixes with the last being the particularly well-named The Dark (2010, Ici D'Ailleurs). The rest of the story is better known. Matt Elliott progressively gave up working on his laptop to develop his guitar playing and vocal skills which are now central to his "solo" discography . However, the ghost of The Third Eye Foundation is never far away and Matt likes to reactivate the project from time to time.
This is more than a simple reissue. The original tracklisting will be enhanced with no less than 23 rare or previously unreleased songs, most of them recorded on cassettes between 1991 and 1997 and now especially remastered by Anders Peterson. This new edition is an opportunity to take a fresh look at Matt's long career. Above all, those archives which even the most obsessive collector cannot already fully own testify to The Third Eye Foundation's never-say-die and corrosive attitude. The Wire Mag published an exclusive unreleased song in November.