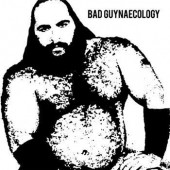 Bad Guys
Bad Guynaecology
Label: Riot Season
Genre: Stoner / Post Metal / Industrial Rock
Recorded in a snake pit, in a quarry, on top of a mountain, in the desert, at night, during a thunderstorm, BAD GUYNAECOLOGY is the second album from Hackney's BAD GUYS. Not only that, they will be playing an album launch show on FRIDAY 13th MARCH – yes, you heard that right, unlucky for some but not for BAD GUYS – at London's infamous Lexington venue ahead of a full run of UK dates.
Full of heavy riffs, pounding drums and wild vocals laid down on seven foot wide steel tape, then smelted into WAVs by an irritable dwarf in an ancient forge, in space - BAD GUYNAECOLOGY truly is the soundtrack to your generation. Whoever you are.
Bad Guys are a southerner, a midlander, a Canadian and a Hungarian.
Production duties on this album fell to esteemed metal producer Jaime Gomez Arellano (Ghost, Cathedral, Angel Witch).
Bad Guys have played at several ATP festivals without ever being asked, razed a chalet to the ground on one occasion and got heavily fined, then next time played directly outside the security guards' accommodation and got shut down. Learning from experience they opted to play inside the main building next time and were shut down due to being a fire hazard.
They've played on the fourth plinth in Trafalger Square as part of Anthony Gormley's 'One and Other' art installation, they were told to shut down then as well even though you were supposed to be able to do whatever you like.
They've played in a theatre, as part of a poorly judged bit of experimentalism by a director. They weren't shut down but it was clear everyone wanted them to leave.
Then they played in the life drawing room in the Royal Academy (the oldest life drawing room in the country), where they performed naked and people drew them, with varying degrees of success. They weren't shut down and lot's of intellectuals said it was interesting.

As well as all this stuff they've played in countless pubs and clubs and parties up and down the country and around Europe and have been generally very well received. Apart from in Glasgow where the promoter didn't bother turning up, the DJ played techno to warm up and one drunk woman kept shouting at them to shut up.