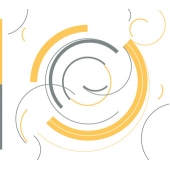 Ratti Nicola / Lami Giovanni
Split
Label: Granny
Genre: Electronica / Ambient / Experimental
Mastered by Giuseppe Ielasi
Artwork by Opora
Cut at Dubplates and Mastering
150 hand-numbered copies
Nicola Ratti
---
Born in Milan in 1978. Began his musical career as guitar player. Lately his approach is focused on beat-analog experimentation and sound installation. He is currently working with: Giuseppe Ielasi with whom he formed the project entitled Bellows, Attila Faravelli as Faravelliratti, ~Tilde, a trio with Enrico Malatesta and Attila Faravelli. He played guitar from 2007 to 2013 in the desertic soundtrack-band Ronin. He has performed live in Europe and North America, and his albums had been released by Anticipate, Preservation, Die Schachtel, Entr'acte, Senufo Editions, Holidays Records, Megaplomb, Musica Moderna, Boring Machines, Coriolis Sounds, Zymogen. He collaborates also with visual artists such as Alessandro Roma and Blisterzine/NastyNasty. Since September 2013 hs'e the curator of a series of events concerning sound and performance hosted by O' in Milano called The Variable Series. He's one of the promoters/artists of Auna since its firts edition (sept. 2012), Auna an electroacoustis music festival conceived as a research/exchange moment between italian-based artists
Giovanni Lami
---
Giovanni Lami (Ravenna, Italy, 1978) is a field recordist and musician who work within soundscape and sound-ecology boundaries.
Since 2009, he has founded several projects, attending many workshops and teaching others about soundscaping and field recording techniques. He played in venues including: Conservatorio B.Maderna (Cesena), DalVerme (Roma), Mu.Vi.Ment.S. Festival 2010 (Itri), Fondazione Giorgio Cini (Venezia), Festival C/ off (Faenza), Schiume Festival (Venezia), Kernel Festival (Desio), NerosuBianco (Cesena), Tagofest VI (Massa), Florence Live Looping Festival (Firenze), Flussi2011 (Avellino), Spazio Elastico (Bologna), Barbur Gallery (Jerusalem), Rogatka (Tel Aviv), The Zimmer (Tel Aviv), Kreuzberg Pavillon (Berlin), Homework Festival (Bologna), Ravenna Festival (Ravenna), Teatro Fondamenta Nuove (Venezia), KNOT Gallery (Athens), Les Yper Yper (Thessaloniki), The Bee's Mouth (Brighton), CafeOTO (London), HanaBi (Ravenna), Teatro Moderno (Agliana), O' (Milan), Störung Festival (Barcelona), Quiet Cue (Berlin), Macao (Milan).
Graduated in Food Science and Technologies and in Photography, formerly photographer he had exhibitions among others in Ravenna, Modena, Genova, Roma, Acireale, San Sebastian - Spagna, Dhaka - Bangladesh, a couple of artistic residence (Basque Country and Norway), published some books and worked with several commercial realities.
Presently working in the field of sound, Giovanni's influence as a photographer lends itself perfectly to composing his sonic explorations. The infinite universe of sound is as long and broad as the visual possibilities available in photography, working a lot on field recordings and real time signals processing; the infinite universe of sounds we've every day all around us and their manipulation is the base of his modus operandi together with the study of resonant surfaces in the field. He's a member of AIPS (Archivio Italiano Paesaggi Sonori).