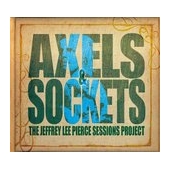 Various Artists
The Jeffrey Lee Pierce Sessions Project: Axels & Sockets
Label: Glitterhouse
Genre: Rock / Pop
Availability
CD Digi / Cardboard €17.49

Dispatched within 5-10 working days
Axels & Sockets features many names from the first two volumes including Nick Cave, Debbie Harry, Mark Lanegan, Lydia Lunch, Warren Ellis, Mick Harvey and Kid Congo Powers along with new additions to the collaborative fold in the form of Iggy Pop, Mark Stewart, Thurston Moore, Jim Sclavunos, Primal Scream and Andrew Weatherall.

Co-ordinated by Pierce's later musical partner Cypress Grove, the Project again strives to pay homage by avoiding the clichés of the conventional tribute record, creating fierce, iconoclastic new music out of song sketches, demo recordings, scribbled lyrics and leftover riffs Jeffrey tragically didn't live to complete, while some put their own spin on personal favourites from his esteemed catalogue.

Jeffrey Lee Pierce first roared out of the tunnel in 1981 with the massively influential punk-blues of the Gun Club's Fire Of Love debut. This was followed by monolithic titles including Miami, The Las Vegas Story and Mother Juno along with solo albums including Wildweed and Ramblin' Jeffrey Lee & Cypress Grove With Willie Love. In March 1996, Jeffrey died after suffering a brain haemorrhage.

The seeds of the Project were planted when Cypress Grove was cleaning out his loft and unearthed a cassette containing unfinished song skeletons that he and Jeffrey had recorded. Taking full advantage of the digital age, these were given to the artists to carry home, first fruits appearing with 2010's We Are Only Riders followed by April 2012's The Journey Is Long (The titles are taken from a piece of prose typed out by Pierce).

Axels & Sockets casts the Project's net wider than ever, kicking off with Iggy Pop making his debut appearance duetting with Nick Cave on 'Nobody's City' before Debbie Harry invokes the early punk-pop Blondie sound with the Amber Lights (Mick Harvey and JP Shilo) on 'Kisses For My President', which Jeffrey wrote about her before she knew he existed (He was president of the Blondie fan club). Cave also completes his trilogy of duets with Debbie on 'Into The Fire'.

Returning too are Mark Lanegan, along with Bertrand Cantat, Crippled Black Phoenix, Gallon Drunk's James Johnston and Cypress Grove. Also making their debut are Mark Stewart and Thurston Moore (their take on 'Shame And Pain' marking the first time Jeffrey's vocals have appeared on the set), Primal Scream, whose version of 'Goodbye Johnny' is remixed into smokey hoodoo noir by Andrew Weatherall, KatieJane Garside and Andrea Schroeder.

In keeping with Jeffrey' chosen charities, which encourages disadvantaged LA kids to take up music by buying them instruments, the set also introduces younger bands with Leeds' Black Moth, who are produced by Bad Seeds drummer and project co-coordinator Jim Sclavunos and Cornwall's Honey, helmed by Jeffrey's old partner-in-crime Kris Needs.