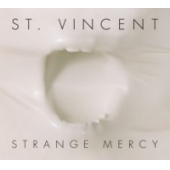 St. Vincent
Strange Mercy
Label: 4ad
Genre: Rock / Pop
Availability
CD Digi / Cardboard €17.49

Dispatched within 5-10 working days
· St. Vincent, the nom-de-stage of Annie Clark, releases the new
album, 'Strange Mercy'. Having worked together on 2009's 'Actor',
Clark reunited with producer John Congleton and recorded the album
in her hometown of Dallas, TX at Elmwood Studios.
· The eleven new tracks showcase Clark's gift for fusing the cerebral
and the visceral, her melodically elegant arrangements packing hefty
emotional punches.
· Clark's virtuosity has been long recognised, and 'Strange Mercy' finds
St. Vincent redefining the idea of the guitar hero, utilising the
instrument as a pointillist artist might wield a brush. Countless
judiciously placed riffs and instrumental flares, each distinct and
unique, cohere into grand tableaus. On 'Cruel', she elicits punchy
bursts like an R&B horn section. 'Cheerleader' froths and boils, with
deep and fuzzy guitars bubbling up to the surface, while 'Surgeon'
twirls about endlessly, Clark's vocals dancing amid a blizzard of
notes.
· 'Strange Mercy' isn't an entirely solitary affair either, with Clark joined
by a host of other musicians. Included among them are Grammy
Award winning Bobby Sparks on mini Moog, clavinet, Arp and
Wurlitzer, Midlake's MacKenzie Smith on drums and Daniel Hart on
violin. Also contributing were Beck keyboardist and musical director
Brian LeBarton, Evan Smith on woodwinds and Phil Palazzolo.
· Since the release of 'Actor', Clark has collaborated with some of the
biggest names in indie music. She recorded with Bon Iver's Justin
Vernon for the 'Twilight: New Moon' soundtrack, had her song 'The
Strangers' sampled by Kid Cudi (who she later performed with on
Jimmy Fallon's TV show), and has been working with David Byrne on
a forthcoming project. More recently she appeared before a sold-out
New York crowd at Michael Azzerad's Our Concert Could Be Your Life
event with a scintillating performance of Big Black's 'Kerosene'.