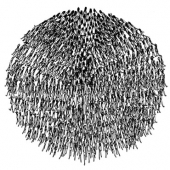 Various Artists
Elsewhere Vxiii
Label: Rocket
Genre: Post Rock / Avant Rock
From its genesis on the sun-drenched streets of Tirana, Albania to the wider sonic spheres inhabited by adventurous heads everywhere, Brussels-based deep digger soFa has assembled a fresh outing in his eclectic compilation series. Whilst the Elsewhere banner has previously focused on unorthodox spaces of the dancefloor via a series of different labels, including experimental imprints like Emotional Response, Music For Dreams and Kalahari Oyster Cult.

The latest instalment is something else entirely. Elsewhere VXII is a beguiling collection of songs and soundscapes that form a bridge between the traditional and the otherworldly.This gathering of outer-national rhythms, drones and folk tales takes in a dizzying array of cultures and folkloric traditions, mapping out their common ground with style and finesse. Here we witness a Romanian Christian carol (from Colinde Netemperate) side by side with glacial abstraction from a Mexican artist based in Belgium (Vica Pachecho) The ritualistic mantras of Ladr'ache share headspace with the beatific acid folk of Odessey And Oracle.

Meanwhile, ululatory drone-based rapture (courtesy of NÅR) marries with electronic reinterpretations of Greek rural serenades from Anna vs June.Unified by deep roots in yet branching out fearlessly into the unknown, all these stylings and more cohere and coalesce into an intoxicating patchwork. Yet as much as it may be driven by a DJ's internal logic, this is primarily a work of border-free serendipity. The same forces that introduced soFa to the violin of Aida Al Hani while walking in Tirana, forging the impetus for this collection, are those that sent both soFa and Rocket Recordings in the direction of NÅR for the album entirely independently of each other. Navigating currents and vibrations that unite the globe, Elsewhere VXIII is a psychic transmission from a singular place where the stars align.

Green vinyl.