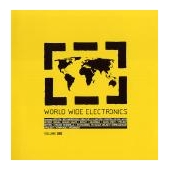 Various Artists
World Wide Electronics Volume One
Label: Out Of Line
Genre: Electro-Industrial
Availability
CD €7.49 Nice Price

Dispatched within 5-10 working days
1. Asphyxia "I know you hate me"
2. Betamorphose "In the name of god"
3. C-lekktor "World of fantasy" (Mekaniszmo Remix)
4. Stahlnebel vs Black Selket "Missbraucht" feat. Suicide Commando
5. Controlled Collapse "Prisoner" (Dark Mix)
6. Terrolokaust "God loves the violence"
7. vProject "Warlord"
8. Ginger Snap5 "Ginger girl"
9. Vyrophage "Beyond the clouds" feat. Suicide Commando
10. Nano Infect "Fall asleep"
11. Project Rotten "Embraced by flames"
12. Infact "Remember"
13. Reaxion Guerrilla "Psycho destruxion" feat. Suicide Commando
14. Mildreda "The parting" (Alpha Version)
15. xPeriment "The end of an era"
16. Detroit Diesel "Normandy" (D-day Mix)
17. Breathe "Mit deiner Haut"