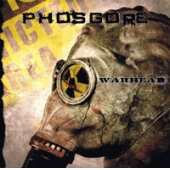 Phosgore
Warhead
Label: Pronoize
Genre: Electro-Industrial
Availability
CD €14.49

Dispatched within 5-10 working days
Uncompromising, ass-kicking beats, thundering basslines, screaming synths... In 2009, PHOSGORE entered the stage with their debut, which was a great success in clubs all over the world. Countless live shows later, they are here again with one promise: this year things are going to get tough. Really tough!

Two years have passed since the alpha strike named "Domination" and in the winter of 2011, peace will be a thing of the past. Time for sonic warfare has come again and with "Warhead", PHOSGORE are ready to lay waste on the world of electronic music.

Founded in 2008 by Flo D after ten years working as an electro/EBM/industrial DJ, he decided to use his knowledge of the club scene to create music himself. Shortly after the first self-published promotional CD ("Club Domination"), he signed to ProNoize and the bestial sound of Phosgore started to take the electro/industrial scene by storm.

In 2010, Flo was joined by Sonja, making PHOSGORE a two person-affair. What the project lacks in dark romantic lyrics and multi-coloured plastic hair, it makes up in pure, raw, relentless power. Industrial and electro elements form some of the most brutal tracks of today's dark music scene. PHOSGORE isn't colourful or shiny - PHOSGORE is dark, dirty and severely f*cked up. PHOSGORE is uncompromised music for an uncompromising audience. You have been warned!