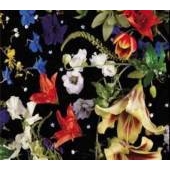 Hegemund
Nuit Blanche
Label: Rebecca And Nathan
Genre: Electronica / Ambient / Experimental
Availability
CD Digi / Cardboard €6.99 Nice Price

In Stock
HEGEMUND is the name of the project-collaboration between Gottfried Tollmann & Ralf Hildenbeutel which started initially in 1994 in Los Angeles. The two musicians met working with the label Eye Q Records in Frankfurt where Hildenbeutel produced the albums of Sven Väth or his own project Earth Nation. Tollmann joined with releases like" Baked Beanz" (with Helmut Zerlett & Nicolle Meyer) on Eye-Q's sublabel "Recycle or Die".
The two musicians found a common denominator in their love for modern art and master drawings as well as for Bach and the destructured electronic mind music of the 90'ies. In this spirit they released their first album called "TollmannHildenbeutel" in 1995. The music was conceived and recorded in Tollmann`s home town Los Angeles where the artists got stuck in their jeep in the national park of Yoshua Tree , CA, while filming the video "isn`t it a funny bird?" (1995) for the album recording ants in their hive.
It was obviously their sense of humour which made them survive a night in their 4wheel drive surrounded by rattlesnakes.
They had hunted & collected sounds of the southwest and the city and put it in the blender in Ralf`s studio in Frankfurt creating a vivid image of their Los Angeles impressions. The hybrid theory of the electronica and the grand piano, the detuned acoustic guitar, the cries of apes and hornbills.
after their adventures and fun Tollmann and Hildenbeutel decided to keep connected and started to randomly film and record sounds and noise in their newly found haven which should become their second home: Paris. Over a period of ten years they developed their love for french wine and culture and collected a small library which they finally put to good use on this latest release "Hegemund".
In Hegemund`s "Nuit Blanche" we find the continuation of the idea of tales from 10 cities, the vison of a project the artists had talked about in the beginning.
Each album has the autobiographical and geographical longitude of a life shared in a different hemisphere, the Paris experience being even more " acoustic" in many ways, even more humorous because of the nonchalantly adoptted musical forms,
Hegemund does not care if you call it "electro bossa" or "jah music" or "le jazz"....they let you know with a wink that they like the deconstruction of pop if it serves their purpose.
Music with a thought and a laugh, but to be taken seriously.