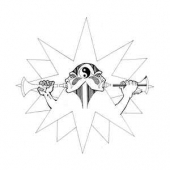 Sounds Of Liberation
Unreleased ( Columbia University 1973 )
Label: Dogtown
Genre: Jazz / Avant Garde
First-ever release of long-lost 1973 session by Philly (Germantown / Mt. Airy) jazz group and activist collective: Khan Jamal, Byard Lancaster, Monnette Sudler, Billy Mills, Dwight James, Omar Hill and Rashid Salim.

Sounds Of Liberation was a band – and a social movement – formed in of the Germantown & Mt Airy neighborhoods of Philadelphia in 1970. The group consisted of seven members: Khan Jamal (vibraphone), Byard Lancaster (alto saxophone), Billy Mills (bass), Dwight James (drums), Monnette Sudler (guitar), Omar Hill (percussion), William Brister (percussionist, aka Rashid Salim).

Originally conceived and formed by Khan Jamal, the arrival of Byard Lancaster in 1971 helped shift their focus and efforts into a higher gear. Jamal and Lancaster would work together in different configurations throughout the decade. Sounds of Liberation were at the forefront of avant-garde Black expression in the early 1970s, putting action behind their creative endeavors. They were as much of a community force as a band, and because of that there was a strong desire by the entire group to work with a range of different populations, from school children to inmates. They continued to do so throughout the mid-1970s. The group issued one self-released album, New Horizons – alternately titled The Sounds Of Liberation in later pressings – in 1972, on their Dogtown label. [It was reissued by Porter Records in 2010 to a great deal of fanfare amongst jazz fans.] In addition to club performances, the collective initiated happenings in elementary schools, prisons & community centers throughout Philadelphia, to great success and impact in the city's African-American and jazz community.

By 1973, the band – along with their manager, George Gilmore (father of R & B musician Linc Gilmore, of Breakwater fame) – travelled to New York City for a recording session at Columbia University. This five-song session of original music (with compositions penned by Jamal, Lancaster and Sudler) has never been released and has been prepared for this important and long-overdue LP package by group members, in collaboration with Peter "Max" Ochester of Philly's Brewerytown Beats Records. From the irrefutable Latin influences and harmonious vibes-and-guitar interplay of "Keno" to the Byard Lancaster saxophone sermonizing set against the soulful group vocals on the almost 11-minute-long "New Horizons (Back Streets Of Heaven)," there is an amazing array of soulful sounds presented on the album. This is deeply emotional and soulful jazz – termed Black Liberation Music by band members – created with passion and purpose by masters of the artform, and it sounds as powerful today as it did back upon its original commitment to tape.