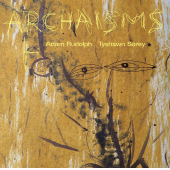 Rudolph Adam / Sorey Tyshawn
Archaisms
Label: Defkaz
Genre: Jazz / Avant Garde
Availability
LP 180gr. €23.99

In Stock
Tyshawn Sorey and Adam Rudolph are composer / percussionist / drummers who share a wide aesthetic sensibility that acknowledges the tradition of African-American and European musics while embracing the imperative of experimentation, pushing the boundaries, and reaching for new music expressions.

The genesis of these two coming together seemed to be a quite natural one. Sorey and Rudolph began performing as a percussion duet in 2018. Sorey states "we seemed so in sync with each other, in part, perhaps, because we are both composers as well as percussionists."

ARCHAISMS 1 is the recorded document of that concert. Sorey & Rudolph brought their unique and evolved rhythm and sonic languages to the fore, through inspired and spirited dialogue. The music flows as one complete piece with several movements or sections.

This music exists on its own terms reflecting the wonderful alchemy of these artists as they spontaneously created dialogues, orchestrations and sonic moods. According to Sorey, "we were committed to open our ears and hearts. The results were magical."

As Rudolph concurs, "You have to come to a creative situation like this with open ears, an open heart, and free-flowing imagination. The preparation is also years of practice, composing and performance so that we can be free to play anything we can imagine to play."

Limited edition of 300 copies.