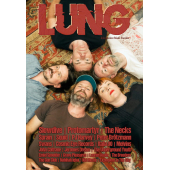 Lung
# 19
Label: Lung
Genre: Rock / Pop
Availability
MAGAZINE + CD €6.50

In Stock
Το Lung Fanzine επιστρέφει με το 19ο τεύχος του! Στο εξώφυλλο του νέου τεύχους φιλοξενούνται οι λατρεμένοι Slowdive, ενώ το οπισθόφυλλο μοιράζονται οι ολόφρεσκοι Italia 90 και Sprain! Εντός του θα βρείτε μερικές από τις πιο ενδιαφέρουσες κυκλοφορίες των τελευταίων μηνών καθώς και συνεντεύξεις με τους: Slowdive, Italia 90, Grave Pleasures, Underground Youth, Youth Valley, Green Was Greener κ.α. Μαζί, όπως πάντα, αφιερώματα, μόνιμες στήλες, δισκοκριτικές, βιβλιοπαρουσιάσεις και κινηματογραφικά θέματα.

Το νέο τεύχος του Lung συνοδεύεται, όπως κάθε φορά, από μια συλλογή – CD! Στο 19ο τεύχος, σε συνεργασία με την Cosmic Eye records, παρουσιάζουμε μια συλλογή με επιλογές από το ρόστερ της εκλεκτικής ανεξάρτητης εταιρίας! Στο CD θα βρείτε συνθέσεις από τους: SPACE SPECTRUM, THE COSMIC DEAD, AYAHUASCA DARK TRIP, MOOCH, ATOMIC SIMAO, BOMBAY GROOVY, GREY MOUSE, Seirios SAVVAIDIS, KIKAGAKU MOYO, SEVEN THAT SPELLS και MOTHER TURTLE.

Το Lung #19 (τεύχος Νοεμβρίου 2023) κυκλοφορεί!

Μουσική ξανά σε χαρτί!