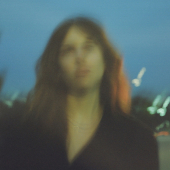 Halo Laurel
Atlas
Label: Awe
Genre: Electronica / Ambient / Experimental
Currently based in Los Angeles, Laurel Halo has spent over a decade stepping into different towns and cities for a moment or more, to the point where everywhere almost became nowhere. Atlas, the debut release on her new imprint Awe, is an attempt to put that feeling to music. Using both electronic and acoustic instrumentation, Halo has created a potent set of sensual ambient jazz collages, comprised of orchestral clouds, shades of modal harmony, hidden sonic details, and detuned, hallucinatory textures. The music functions as a series of maps, for places real and imaginary, and for expressing the unsaid.

The process of writing Atlas began back in 2020 when she reacquainted herself with the piano. She relished the piano's physical feedback, as well as its capacity to express emotion and lightness. And when the legendary Ina-GRM Studios in Paris invited her to take up a residency the following year in 2021, she spared no time to dub, stretch and manipulate some of the simple piano sketches she'd recorded over the prior months; these subtle piano recordings and electronic manipulations would go on to become the heart of Atlas. In the remainder of 2021 and 2022, with time spent between Berlin and London, Halo recorded additional guitar, violin and vibraphone, as well as acoustic instrumentation from friends and collaborators including saxophonist Bendik Giske, violinist James Underwood, cellist Lucy Railton and vocalist Coby Sey. All of these sounds were shaped, melted, and re-composed into the arrangements, their acoustic origins rendered uncanny.

In short, Atlas is road trip music for the subconscious. With repeated listens, it is a record that can leave a deep sensorial impression on the listener, akin to walking at dusk in a dark forest. Its humor and sharp focus would dispel any notions of sentimentality. Completely distinct from the rest of Halo's catalog, Atlas is an album that thrives in the quietest places, rejecting bombast and embracing awe.
Fitting that it's the debut release on her new recording label, whose slogan parallels the mood and atmosphere of the album: Awe is something you feel when confronted with forces beyond your control: nature, the cosmos, chaos, human error, hallucinations.