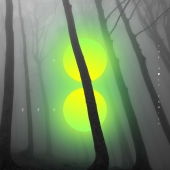 Holy Family
Go Zero
Label: Rocket
Genre: Post Rock / Avant Rock
The second album by underground rock-and-beyond shapeshifters The Holy Family comes complete with a heavy concept for the psychedelically inclined, and pairs this with music which does this justice and then some.

'Go Zero' follows up the British group's widely praised self-titled debut from 2021 and – says foundational member David Jason Smith – "is based on a hypothetical theory that there is no such thing as 'the future'. We are continually moving forward into our past until we arrive at our birth – creation – the Tree Of Knowledge… or 'Going Zero', as I've termed it."

It figures, then, that over some 40 minutes the five musicians conjure a sound that exhibits an affinity with great experimental totems down the ages, in a manner that's avowedly forward-facing and stamped with their own identity. All involved boast a pre-Holy Family CV to turn clued-in heads: Kavus Torabi (guitars), Sam Warren (bass) and Emmett Elvin (piano and Rhodes), along with Smith himself, were all members of the mighty Guapo. Finnish studio wizard Antti Uusimaki, who co-sculpted the eight tracks on 'Go Zero' into their final form, is also a collaborator of Smith's from the Guapo days. Drummer Joe Lazarus is new to the band – taking over that role from Smith, who largely concentrates on vocals and synths here – and his versatility is never in doubt, as his rhythms pull in myriad directions, blurring the lines between jazz, prog and psych rock.

Work began on this album in the summer of 2021, effectively as soon as 'The Holy Family' was released, with Smith writing and recording the music for 'Go Zero' in his home studio. Torabi, Warren, Elvin and Lazarus were gradually brought into the fold to add their parts, before being subject to alchemical post-production by Uusimaki.

Later, in the autumn of 2022, two pieces were laid down with the full band in each other's company. One, 'Hell Born Babel', flies out of the traps with a sinewy post-hardcore bassline: people who know Sam Warren from Thumpermonkey, another band of his, will be forewarned of his way with a stout groove. The multi-layered freakout that follows might have a cattleprod effect for those listeners and others, nevertheless. The other, the second section of the three-part 'Go Zero Suite', tops ten minutes and is an improvised colossus with both Lazarus and Smith drumming. Rife with hypnotic repetition and circuit-frying Rhodes, if you dig anything from Can to Boredoms to Oneida to Guapo themselves, step this way.

Though The Holy Family's musical inspirations are multitudinous, and rarely if ever obvious, the lyrics nod to a distinct literary source – namely 'Vorrh', the trilogy of fantasy novels by cult British author Brian Catling, who died in 2022 while 'Go Zero' was being assembled. This, says Smith, lent a deeper personal meaning to the album as its final touches were put in place. In these three books, the Vorrh is "an impenetrable sentient forest, older than mankind, believed to house all knowledge" – and in the same way that the name The Holy Family references an Angela Carter work, Smith explains, "the track titles 'Chalky's Eyes' (had been eaten by flies) and 'The Watcher' are direct references to characters in the book."

Catling was also a renowned visual artist, with his installation works acclaimed by the art establishment even as he rejected many of its trappings – often subverting traditional ideas of the gallery space. He saw art and literature as almost one and the same, sitting at his kitchen table switching from canvas to manuscript and back. Smith, similarly, has created artworks alongside his recorded output since the early days of Guapo (some ending up on album covers), and has presented audiovisual work in unconventional or 'outsider' locations. He cites his grounding in DIY music culture for this impulse, but shares with Brian Catling a strong individualist streak and desire to plough one's own furrow. Explaining the similarities between creation of music and art, he says: "At some point the lightbulb moment occurs. I see what the musical direction has the potential to be, then shape the material in the same way I would conceive a sculptural installation."

With the vocal delivery pitchshifted and timestretched, and the music occult-adjacent, doomladen, dense and hazy – yet concealing outbursts of splendid melody – with 'Go Zero' The Holy Family have returned with an album that unfurls elegantly, even while big time discombobulation is occurring.

Die-cut cover.