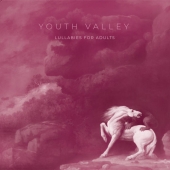 Youth Valley
Lullabies For Adults
Label: Make Me Happy / Shelflife
Genre: Rock / Pop
Availability
LP €24.99

Dispatched within 5-10 working days
Other Formats
Youth Valley was created in 2019 and is currently based in Athens, Greece. The band's style revolves around genres like new wave, post punk and 80's indie rock like 'the Cure' or 'the Smiths' dressed in a more contemporary shoegaze guitar-based coat, inspired by bands like 'DIIV'.
The band's songs involve internal dialogue, facing traumas, observing the family/ society structure and openly discuss or philosophize matters we have not been "programmed" to question, let alone communicate and comprehend and usually end up passing to the following generation just like they did to us; unless we decide to break the circle. And to do that, we acknowledge that the inner self-parent needs to take care of the child within. If this child learns to feel loved and appreciated, it will do wonders.
Magenta vinyl. Gatefold cover.