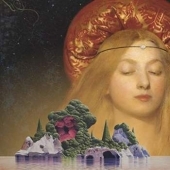 Club 8
Golden Island
Label: Labrador
Genre: Rock / Pop
"After more than two decades, these Swedish greats are still pushing the boundaries of music." The Revue.

The new albums marks the duo's biggest leap since they formed in the small town of Åhus in 1995. "Golden Island" is a place somewhere between the real and the imaginary. The album dwells on quietness and subtle moves created by odd instruments, field recordings and sampled voices creating embracing atmospheres pending from soothing to haunting.

"Golden Island comes from a different state than our other albums. I've not really been living in this world lately. ", explains Johan from the duo. Club 8 was founded by teenagers Karolina Komstedt and Johan Angergård in their hometown of Åhus, Sweden in 1995. The duo started out as a Bossa Nova inspired guitar-pop band as heard on 1996's Nouvelle then soon after moved on to create electronic dance music found on 1998's The Friend I Once Had. Between 2001 and 2003, they made three chilled out indie soul albums and returned after a four year long hiatus with The Boy Who Couldn't Stop Dreaming which features the low key guitar-plocking hit "Jesus, Walk With Me".