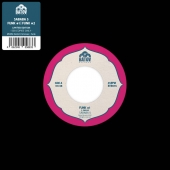 Sababa 5
Funk #1 / Funk #2
Label: Batov Records
Genre: Freestyle / Nu Jazz / Funk / Afro
Sababa 5, hot on the heels of their self-titled debut LP, share a pair of raw funk nuggets on one unmissable 45 via Middle Eastern psych groove merchants Batov Records.

This double-headed monster of a 45 marks a return to the band's successful run of sold-out 45s. Only interrupted last year by their first full length album, which cemented their reputation for crispy desert grooves that combine psych, surf, and funk with a Middle Eastern accent, and caught the attention of BBC 6 Radio Music icons Iggy Pop, Huey Morgan and Cerys Matthews, and leading French radio station FIP and Nova Radio.

On the A-side, the simply titled "Funk #1" packs a solid punch of Skull Snapping drums and electric bass, Mediterranean synths and a healthy dose of JBs meet Omar Khorshid guitar, finally let loose for a hair-raising solo.

On the flip, "Funk 2" picks up the pace with a frenetic drum rhythm, classic circling funk guitar, and crazed synths, held down by an irresistible bassline and psychedelic organ chords.

Don't stop, pass go and collect the latest essential slice of wax from Tel Aviv's premiere psychedelic funk exports on Batov Records delectable Middle Eastern Groove series.