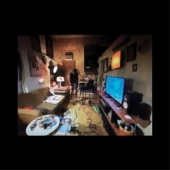 Ssps
The Life & Times Of Gigi Black
Label: Nation
Genre: Electronica / Ambient / Experimental
Availability
LPx4 + FANZINE €78.99

In Stock
4x LP and Zine (ft. photos, historical text and track narrations by the artist) set. Nation bring it.
An essential delve in to the retrospective works of SSPS. Limited edition. No repress. HUGE TIP ON THIS!

" You can't fake the funk, as they say and SSPS is pure funk embodied in all he does, the man oozes the funk 24-7! One of my earliest encounters with SSPS was at one of the infamous Rubulad parties out in Brooklyn.... the man was decked out extravagantly...a cross between Blowfly and some futuristic being zapped down to earth directly from the P-Funk mothership. Who was this masked man?
The disco vampire, was beating fast disco tracks relentlessly while slamming in his 707 over the records in real time... not an easy feat, the beauty of the imperfections making it that much more exciting hearing the gallop and wild energy he was bringing to the crowd, we were eating it up. This is SSPS, fearless in his approach and execution, a modernist looking to the future but rooted in the past, an artist committed to his art... all presented with unhinged emotion. It's all or nothing...everything on the table....do or die...the true epitome of style!!!!

Declaring someone a "cult figure" or a "legend" is a huge weight to carry and is often a term that is carelessly thrown around, but those of us who have dwelled in this "underground" over the last 30 years can say with confidence that SSPS is just that to many of us, no questions asked, it's not up for debate. Now, many years later we see the culmination of his electronic works from 2002-2021 committed to record in this 4xlp,

16 track, 4LP set (plus 45 page zine) titled SSPS, "The Life and Times of GiGi Black" thus solidifying
Mr. Nicholson's place in the secret world of dance not dance music. The only way to describe this offering is "full spectrum electronic musical madness" not to be categorized, never to be pigeonholed, full of surprises and straight from the gut with a direct hit to the heart. We could go on about the production processes, about his Furr City studio space or his cross country excursions for work with a truck packed with paintings (but also his music equipment) plugging in and recording during his pit stops in Motel 6's across the US. But again it doesn't do justice to simply have a small peek inside the man's mind...
the music is beyond the mind. The process is the process and nothing has or can stand in the way of what the SSPS has done in his long musical life. Punk Rock, Hardcore, House, No-Wave, Industrial, Jakbeat/Slow-Beat and Noise. it's all there for the taking, it's all intertwined. If you want it, you will find it within SSPS's works.

Nicholson's path is the embodiment of true culture within "dance music" cultivated from years of learning, experimenting, and pushing the limits with total commitment and immersion. "The Life and Times of GiGi Black" is true life experience, it is a reflection of someone delving deep into his craft and presenting it with care in opposition to the fast, disposable, self gratifying click bait culture we see dominating the pages today. The proof is here, drop the needle, enter the world of SSPS.

-Ron Morelli, 2023"