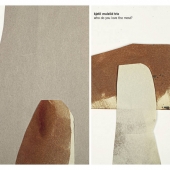 Mulelid Kjetil Trio
Who Do You Love The Most?
Label: Rune Grammofon
Genre: Jazz / Avant Garde
"Who Do You Love The Most?" is the young trio's third album in just over four years, and continues in the tradition of their two previous efforts; beautiful and evocative melodies, rich on harmonies, often rhythmically complex textures and a typically folk-like Scandinavian character with the occasional gospel feel. The album's 10 songs are all Mulelid originals, except for a gripping cover of Judee Sill's The Archetypical Man. Two of the originals are the trio's versions of songs that first appeared on the pianist's much lauded solo piano album ("Piano") from last year. Kjetil André Mulelid (31) comes across as an exceptionally mature pianist and composer. The trio's 2017 debut "Not Nearly Enough To Buy A House" received wide international acclaim, with writers most typically mentioning Keith Jarrett and Bill Evans. The praise continued for 2019's follow-up "What You Thought Was Home", with the Jazz Journal giving it a 5/5 rating and calling it "some of the most captivating music I´ve heard in quite some while". All About Jazz noted the maturity of the work, feeling like coming from three well-seasoned pros.