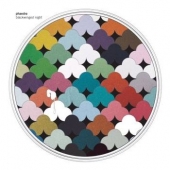 Phaedra
Blackwinged Night
Label: Rune Grammofon
Genre: Rock / Pop
Phaedra´s debut album "The Sea" (2011) received fantastic international reviews in magazines as diverse as The Wire, Uncut, Shindig and Prog, drawing lines to Vashti Bunyan, Elizabeth Fraser and Nico. Chicago Reader said "this is one of the loveliest, most striking albums, unlike anything I´ve heard in years". "Blackwinged Night" is the follow-up, and the second album in a triology, a lyrical and musical cycle with its own mythological structure. From the ethereal folk universe of the debut, "Blackwinged Night" dives into a darker dreampop underworld, where acoustic elements of woodwinds, strings and marimba are mixed with layers of analog synths, bigger drums and darker basslines. Vocals are as crystal clear and haunting as ever, with lyrics circling around themes like creation and collaps, time and falling stars.
Phaedra is Ingvild Langgård; singer, composer and artist. Educated from The Academy Of Fine Art in Oslo, she composes music for stage and screen as well as doing art projects with sound, video and installations. In co-operation with choreographer Ingri Fiksdal and scenographer Signe Becker she has made the acclaimed dance performances "Orchard Ballads" and "Night Tripper". "Night Tripper" won the Oslo Award in 2012 and has since been toured extensively in Europe, and had its US premiere in April this year. The Guardian wrote "an extraordinary piece, simple yet powerfully affecting". "Blackwinged Night" is produced by Langgård herself, with contributions from Christian Engfelt, who also mixed the album.
There are contributions from Ensemble Neon members Kristine Tjøgersen on clarinet and Yumi Murakami on flute. Last heard on Motorpsycho´s "En Konsert For Folk Flest", Kari Rønnekleiv plays violin and Ole Henrik Moe is on viola. Last but not least, we have Ingvild´s regular band; Gunhild Mathea Olaussen on violin, Jørn Tore Egseth on bass and keyboards and Ane Marthe Sørlien Holen on drums, percussion, marimba and vibraphone. Mastered by legendary Greg Calbi at Sterling Sound.