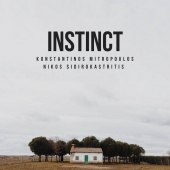 Mitropoulos Konstantinos / Sidirokastritis Nikos
Instinct
Label: Jazz Solidarity Network
Genre: Jazz / Avant Garde
Availability
CD Digi / Cardboard €12.99

In Stock
Two years ago, drummer Nikos Sidirokastritis and guitarist Konstantinos Mitropoulos met and started a musical journey together simply for the joy of creation.
Gradually, a deep emotional contact was cultivated, which is reflected in 8 original compositions, forming the album "Instinct".
A narrative & contemplative musical expression where melody, improvisation and emptiness are mixed, creating the soundtrack of the inner journey they envisioned. The atmosphere of the album flirts with the genres of modern jazz, free improvisation, experimental, ambient and cinematic while maintaining a deep personal sound.


K. Mitropoulos - guitar
N.Sidirokastritis - drums

Studio 133, Athens Greece
Sound recording and mixing by Michalis Skarakis
Mastering by Nassos Nomikos

Black and white photos by Stelios Katsatsidis.