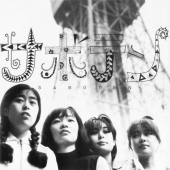 Saboten
Saboten
Label: Sub Discos
Genre: 80s Wave / Rock / Pop / Punk
Availability
LP €29.99

Dispatched within 5-10 working days
This album was recorded in 1982 at the legendary Studio Dig and is the first time the LP has been reissued in its original format.

Remastered from the original master tapes with two bonus tracks from the same session.

This reissue has the original artwork, extended with a gatefold cover and an extra A2 poster with lyrics, liner notes, photos and amazing artwork by the singer and guitarist Satomi Matsumoto.

An original copy is very hard to find and goes for a lot of money.

Saboten is featured on the cult compilations "Huddle No Trouble" and "Welcome To Dreamland" (Celluloid).

Formed in 1981 in Tokyo, Saboten was an All-Girl-Erik Satie-Obsessed-Post-Punk band.

"Of the many things one could say of Saboten it is their impeccable sense of lyricism and melody that make them truly great. They were a female band unlike any other in the world. Part contemporary music, part rock, their is a high form of pop music. When all is said and done, they are a wonderful band, and one of only a handful that will forever remain in the collective musical consciousness."
Shunji Tsutaki

"Absolute masterpiece of minimal, Satie-influenced post-punk. No other group sounds like Saboten".

"Saboten means "cactus" and, like their namesake, they are spiky and yet oddly beautiful".