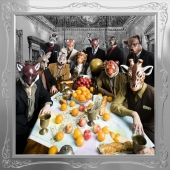 Antibalas
Antibalas.
Label: Daptone
Genre: Freestyle / Nu Jazz / Funk / Afro
Availability
LP + MP3 COUPON €22.99

Dispatched within 5-10 working days
"Rhythm is what makes a good afrobeat record," says Gabriel Roth, Daptone Records co-founder and producer of Antibalas' forthcoming self-titled LP. "Not just the rhythm section, but the rhythm of the horns, the rhythm of the vocals, the rhythm of the keyboards, everybody's rhythm. It's about feeling something the same way - everybody hearing music the same way, and being able to turn all those instruments into one voice. Antibalas is the only band that can do that, right now. That's why they're still at the front of the scene, after all these years."

Born in a Brooklyn warehouse in 1997, the 12-piece ensemble credited with introducing Afrobeat to a wider global audience have played on stage and in the studio with the likes of Paul Simon, TV on the Radio, Public Enemy and Amy Winehouse, and can count the likes of David Byrne and Questlove amongst their fans.

It wasn't an inevitable trajectory. Gabriel Roth, a founding member and producer of the band's first three albums as well as the leader of the Dap-Kings, noted that, "At the time, there was not a lot of interest in Afrobeat, or in Fela. Because of that, a lot of people looked at Antibalas as pioneers in this second wave of Afrobeat that blossomed around the world. There are great Afrobeat bands now in Brazil, in Chicago, in England, in a lot of places, and I think a lot of those bands looked to Antibalas, alongside Fela, as one of their real inspirations."

Recorded over a two-week period at Daptone's House of Soul Studios in Brooklyn with Roth at the helm, Antibalas is their fifth album but the first to be released on Daptone, which brings things full-circle for the band. Antibalas have shared past and present members with several outfits in the Daptone stable, including Sharon Jones and the Dap-Kings and the Budos Band. In fact, TV on the Radio, the Dap-Kings and Antibalas all formed around the same time a Brooklyn factory loft where Tunde Adebimpe, Roth and founder and baritone saxophonist Martin Perna all lived.

Tracks like "The Rat Catcher," "Him Belly No Go Sweet" and "Ibeji" capture the band's fiery telepathy and unrelenting sense of groove, while also showcasing their most concisely focused attack yet. From the deft rumble of the new rhythm section (drummer Miles Arntzen and bassist Nikhil Yerawadekar) to the leonine growl of longtime frontman Amayo - a native of Lagos, Nigeria and senior Kung Fu master - the band sounds more locked in and self-assured than ever.

In 2007, following the release of the band's last album, Security, Antibalas' Afrobeat expertise led to the involvement of several band members in Fela!, the musical based on the life of Fela Kuti, which was a Broadway smash and went on to conquer London and beyond. But Fela! wasn't the only thing keeping Antibalas busy between Security and sessions for the new album, in addition to playing about 50 shows a year across the globe as Antibalas, the band's members have been in demand as collaborators and devoted ample time to a multitude of other musical endeavors. "It was still all of us playing together, just not in Antibalas," explains Martin Perna. "We were all still locking in together, building friendships, building the musical trust, and building the sort of ESP that happens when musicians play together for a long time. We're not reuniting per se, because we were never disunited."

"We love this Afrobeat, it's important to us, it's not appreciated enough," he goes on. "Unlike most music that's really ego-driven and centered around one person or cult of personality, all of us have had to learn to function with really specified roles - everyone becomes a drummer, in a certain sense. Our parts may be played on melodic instruments, but they're part of this huge interlocking net that holds up the music."

"What's interesting about Antibalas is that it really is a multi-headed beast," adds Stuart Bogie, Antibalas' tenor saxophone player. "The last song on the album is 'Sare Kon Kon,' and it's a song that has a kinetic energy that's just racing and racing the whole time. To paraphrase the lyrics, it's like, 'We're running, we're running, we don't know where we're going, but everybody's running.' That kind of encapsulates the rushing anarchy that keeps the band together. It's the idea that we're all kind of on this train, and there's no director, no engineer, no brake, everybody just has to run, and go or not go."