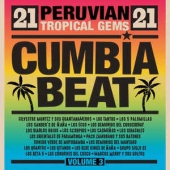 Various Artists
Cumbia Beat Vol 3
Label: Vampisoul
Genre: Freestyle / Nu Jazz / Funk / Afro
Availability
LP x2 €26.99

Dispatched within 5-10 working days
The third volume of our "Cumbia Beat" series includes again tracks by the some of the most important bands of the golden age of Peruvian cumbia: Los Diablos Rojos, Los Beta 5, Los Girasoles, Los Ecos, Los Demonios del Mantaro, Los Sander's de Ñaña…

Peruvian cumbia brings together tropical music styles from Colombia and Cuba, Western influences such as

60s beat and psychedelic rock, and mixes them with indigenous melodies from the Amazonian jungle and traditional Andean songs. The result is a unique and vibrant style of music which reverberates with life.

Fifty years after the release of one of the founding records of the genre known as Peruvian cumbia (by guitar players Enrique Delgado Montes and Berardo Hernández "Manzanita"), Vampisoul presents this third volume in the series "Cumbia Beat", which brings together 45 rpm rarities from acclaimed groups, short-lived bands and outstanding huaycumbias.

Like the previous volumes in this series, listening to this record takes you on a journey across the geography of Peru, as the majority of the groups on this collection were from different regions of the country, or had close links to them, although all of the artists recorded in Lima.

Most of the bands emerged during the period 1968-1980, a time of deep political and social change implemented by the nationalist military dictatorship. Los Demonios del Mantaro, Los Demonios de Corocochay and Los 5 Palomillas are the exceptions to this, as they recorded between 1965 and 1967 and produced a hybrid of cumbia and huayno called huaycumbia, a genre which achieved high sales figures during those years.

Despite the characteristics of huaycumbia, the early composers of Peruvian cumbia didn't consider it a direct source of inspiration. They admit to being more influenced by Colombian cumbia, Cuban guaracha, beat and psychedelic music from the UK and US that they had played since the end of the 60s, in their "own style", as a part of a musical appropriation process that quickly led them to forge a singular sound.

Peruvian cumbia developed, spurred by the music school erudition of the guitarist Enrique Delgado Montes on the one hand and, on the other, by the self-taught creativity of Berardo Hernández "Manzanita". Largely ignored by the elites, it steadily won over audiences and created its own market, establishing its own broadcast channels and distribution channels. As Enrique Delgado stated in 1973: "We've defined a typically Peruvian cumbia which, strange as it might appear, people also like in Colombia and several other countries."

Finally, setting up their own labels, competing hard against one another and enriching their music with sounds they brought from their specific regions, these bands that gradually sprung up all over the country managed to consolidate a tradition that is still alive today.

Welcome to the golden age of Peruvian cumbia.