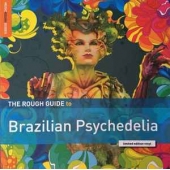 Various Artists
The Rough Guide To Brazilian Psychedelia
Label: World Music Network
Genre: 60s / 70s Rock / Pop / Progressive / Kraut
This heady selection traces Brazil's enduring love affair with psychedelic music from the early days of the 1970s to today's new wave of artists. Featuring forgotten masterpieces by José Mauro and Piry Reis, along with rock-fuelled retro tracks by Mopho and Jupiter Maça, this is a mind-bending collection which transcends time.

Brazil has a long tradition of all things psychedelic which goes back to the Tropicália movement that shook Brazilian culture to its foundations in the late 1960s. This collection features both the old and new and highlights how this most enduring of musical ideas continues to be embraced and re-invented by pioneering artists.

The classic opener 'Incríveis Peripécias De Danilo' by the little-known singer-songwriter Piry Reis is dreamy, ethereal and groovy Brazilian psych-folk at its finest. Taken from the highly sought-after jewel of twisted psychedelic MPB (Popular Brazilian Music), Vocês Querem Mate?, this is a dazzling, lucid piece of escapism, as relevant today as it was when released in the tumultuous political climate of 1970s Brazil.

Hailing from Maceió, the largest city of the coastal state of Alagoas, Mopho's rock-fuelled 'Ela Me Deu Um Beijo' is one of many highlights on their eponymous and critically acclaimed debut album from 2000 which helped bring about the renewed interest in the bygone psychedelic scene. Likewise, Laranja Freak, another of the foremost acts from the Brazilian psychedelic revival, set the scene for the frantic 'Fluidos' with the swirling and retro keyboard sounds of Ricardo Farfisa. Formed in 1997 in the southern city of Porto Alegre, their music transcends time and place and conjures up images of the UFO and other underground clubs in London during the late 1960s.

'Ancient Truth' by Brazilian greats Mauricio Maestro and Nana Vasconcelos was included on the second part of their five-decade psych-folk trilogy. The 1976 classic Upside Down stirs up a time when people dared to make liberated records. Maestro's moving compositions melt together hypnotising strings with his darting guitar and wonderfully languid vocals. A true master of percussion, Nana Vasconcelos brings an endless concoction of exotic instrumentation to stirring life as mind-bending vocals move in and out of focus.

In 1943, the Swiss scientist Albert Hofmann famously took his bike and left his laboratory for home after ingesting a dose of LSD of his own creation to discover its effects. In 2015, the Brazilian musician Julito Cavalcante led a band called Bike to release their first album titled 1943 – a homage to the scientist. It goes without saying that 'Enigma Do Dente Falso' translated as 'False Tooth Puzzle' is loaded with psychedelia and lyrics that are apparently a result of a lysergic trip of their own.

Something of a cult figure, Flávio Basso aka Jupiter Maça became well known as a pioneering figure in the Rio Grande do Sul rock scene during the mid-to-late 1980s/early 1990s before going on to release his first solo full-length album, A Sétima Efervescência in 1997. 'O Novo Namorado' is a stand-out track from the album, which was critically acclaimed at the time of its release and often compared to Pink Floyd's 1967 classic debut The Piper At The Gates Of Dawn.

Very much a forgotten masterpiece, José Mauro's album Obnoxious retains its strange, otherworldly appeal and is a firm favourite amongst a small circle of crate diggers. Today, very little is known about José Mauro and as a result those searching for an insight into the man behind the music must attempt to glean what they can from the music itself. With its mournful and melancholic vocals creating a dark, brooding atmosphere, 'Apocalypse' stands in contrast to the usual joyfulness and high-spirited rhythm of the more prominent Brazilian music of the era.

With their impossible-to-define brand of global roots music, Nomade Orquestra's 'Felag Mengu' starts out with 1960s style jazzy-psychedelic rock reminiscent of the Doors and then plunges headfirst into a compulsive Afro-Brazilian percussion solo, embracing the carnival spirit. This newest landscape in their sonic universe reveals beckoning oriental crying melodies on vocals mirrored by the horns.

Bonifrate aka Pedro Franke began writing songs in the mid-nineties while growing up in the picturesque small town of Paraty. From 2003 to 2016, Bonifrate led the popular Brazilian psychedelic group Supercordas, whose featured 'Orquestra De Mil Martelos' shares a dreamlike quality with Bonifrate's solo offering 'Microcosmo', and like all of the songs on this LP pays a respectful tip of the hat to the pioneering artists of the late 1960s.