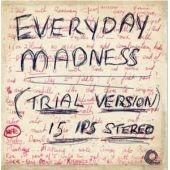 Kirchin Basil
Everyday Madness
Label: Trunk
Genre: 60s / 70s Rock / Pop / Progressive / Kraut
Availability
LP €24.99

Dispatched within 5-10 working days
Holy shit! If it isn't three unheard 1960s and 1970s reels from the unreal and unreleased Basil Kirchin Tape Archive. Sublime pastoral jazz, autistic children screaming, spooky vocals, experimental tape manipulation and more from the master of such thing.

HISTORY:
The three parts of this new Basil Kirchin album come from three very different tapes from his archive. All parts were unreleased until now.

"Pat's Pigs" actually sounds to me like a Basil bird recording, slowed and treated, mixed with simple improvisation. But it could well be pigs. Pat's pigs. This whole tape recording may have been an early experiment towards what was to become Worlds Within Worlds Parts I and II. A lot of Basil's work was headed in that direction.

"Electronic" – first of all this is not that electronic. There are elements of the classic Kirchin drone sound here, mixed with multiple and treated recordings of the autistic children of Schurmatt, along with Esther, his wife, singing. I remember speaking to Basil many years ago about his Schurmatt recordings. Esther worked as a nurse with the children, Basil got to know many of them, and became fascinated by the extreme musical noises they would make with their voices. This recording is not necessarily for the faint hearted, but makes for extraordinary listening, based on the fact this would have been made and mixed, simply as a classic and progressive Kirchin experiment, back in the late 1960s/ early 1970s. This also has untreated elements that would eventually contribute towards Quantum, his preferred version of the WWW concept.

"The Suspended Fourth" comes across like a soundtrack, so it could well be part of what Basil called his "imaginary film music period". It has a very distinctive and pastoral Kirchin style leitmotif that repeats along its glorious and slightly disturbed 21 minutes. It's very well produced, possibly built up and improvised over a few days, could well have been an experiment, a pitch or just something that had to come out in the groovy studio. The tape itself states that this is The Suspended Forth with a subtitle: "The Musical Study Of A Mind, Part 1 Schizophrenia". It therefore could even be something to do with a soundtrack he was asked to make for a mental heath conference for psychiatrists at Earls Court in the late 1960s (see States Of Mind, JBH005LP – the British jazz musical line seems like it could well be the very same). But who knows for sure? I shall continue looking in the archive for other possible parts.

Before I go, the original title for this album and the artwork come from an empty tape box in the archive, which I think sums up all sorts of things about Basil, his awesome music and the tape archive all at the same time.