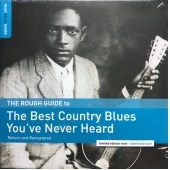 Various Artists
The Rough Guide To The Best Country Blues You've Never Heard
Label: World Music Network
Genre: 60s / 70s Rock / Pop / Progressive / Kraut
Availability
LP + MP3 COUPON €15.99

In Stock
An intriguing collection of rare cuts highlighting the sheer wealth of remarkable material that comes to light by digging that bit deeper into the country blues archive.

Mysteries abound for many of these obscure country blues artists who cut a handful of sides in the late 1920s and early 1930s. Although just the nicknames alone will fire any blues connoisseur's imagination, from the likes of Papa Egg Shell and Little Hat Jones to Uncle Bud Walker and Spark Plug Smith, these tracks are essential listening and offer a unique insight into early country blues.

John Byrd &;amp Washboard Walter's beautiful duet 'Wasn't It Sad About Lemon'is a tribute to the great Texas bluesman Blind Lemon Jefferson shortly after his death. Likewise, The Two Poor Boys (Joe Evans &;amp Arthur McClain) pay their respects to the great man with 'Two White Horses In A Line', a classic rendition of Lemon's 'See That My Grave Is Kept Clean' with the use of the mandolin showing the clear influence of hillbilly music. Charlie McCoy was another mandolin player and one of the major blues accompanists of his time, and here he shows his versatility by singing the sentimental 'Always In Love With You',a far cry from the intense sound of many of his Delta blues brethren.

This collection features many oddities including the novel musical partnership of Lottie Kimbrough &;amp Winston Holmes, with Kimbrough's vocal power and unique song arrangements embellished by the yodels and vocalised bird calls of Holmes. Kimbrough is joined by other country blues divas Mississippi Matilda, whose masterpiece 'Hard Working Woman' shows off her breathless falsetto to great effect, and Pearl Dickson of which little is known other than that her classic 'Twelve Pound Daddy' was one of just four sides recorded in 1927.

The Texas blues guitarist "Funny Papa" Smith is one of the exceptions on this album in that he recorded some twenty issued sides. A fascinating figure who took the pseudonym "The Howlin' Wolf" long before Chester Burnett arrived on the scene, he was one of the pioneers of the Texas blues style.

Lawrence Casey aka Papa Egg Shellgained his nickname because of his premature baldness, and 'Goin' Up the Country', a wonderful take on the 'Kansas City Blues', displays his fluid and dextrous picking style to the full. Egg Shell is one of many very fine guitarists included in this collection who are now long forgotten, giving further proof of the sheer wealth of intriguing and remarkable material that comes to light when digging that bit deeper into the annals of country blues.