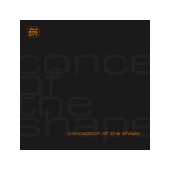 Various Artists
Greg Parker Pres. Conception Of The Shape
Label: Plastic City
Genre: Techno / Tech-House / House / Trance
The ideas the imagination contained seem to materialize out of the matrix of ones and zeros. The annulment of physical bodies is finished and a new composition of shapes arises from the phase in which information transcended the limits of mechanical structures. It is time for getting more concrete in what we do and how we will do it. For this it is important to have a conception to rebuild the city (again).

After the 'Age Of Search And Destruction' (1996-1998) the city was 'Reconstructed' (1998-2002) but there were no clear forms, no clean structures. The ideas and the stream of thoughts were bubbling. So there was no gain but the constant conversion, the search, the try. So it was the 'Maybe.Plastic City' (2003-2006). Then the streams of thoughts was concentrating on a new form, a structure that could hold the architecture: 'The Imagination Of Shape' (2006 till now). Within the last two years while the digitalization of the world proceeded in a breathless and inexorable speed, the city assimilated every breath, every action, emotion and word in its surrounding, transformed it, gave sense to the mass of inspiration and decided to give an example of deceleration by publishing the fruits of the creative work of its population. Driving, spheric, melodic, positive, with the feet on the ground – this is the process, this could be the conception of the shape and who knows what the next step of development means... Maybe a new age in the near future?

For this habitant Greg Parker, who was big with the 'All Good Things EP' and mixed the 'Deep Meltdown' compilation, compiled a very delicious selection of the current labels spectrum. Tracks by Mr. Cenzo, Terry Lee Brown Junior, Nacho Marco, Costa Nosido, The Timewriter, Roberto Rodriguez, Stryke and other will take all the rotten feelings and lift them up into the sky. And what is fascinating: It will ground you through action. The future is now. The future is Plastic City!