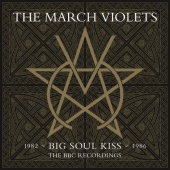 March Violets
Big Soul Kiss - The Bbc Recordings
Label: Jungle
Genre: 80s Wave / Rock / Pop / Punk
Availability
LP x2 €28.99

Dispatched within 5-10 working days
Reissue of sold-out Record Store Day 2LP – this time on limited Citrine Yellow vinyl.

Twenty-three tracks recorded for John Peel and others – incl. nine unreleased songs.

From Leeds, label-mates of Sisters of Mercy, they issued six singles & a compilation.

Topped the indie charts, with Snake Dance, Deep and Walk into the Sun.

THE MARCH VIOLETS came out of Leeds in the early 80's, initially as label- mates of Sisters of Mercy. Releasing six singles, they were a constant presence at the heights of the UK indie charts.

They didn't get around to recording an album – their only long-players, both in the UK and USA, were singles compilations. They eventually signed to a major and were groomed for a USA breakthrough, but found they were asked to make too many compromises.

Thankfully, their career was well-documented by the BBC recording six sessions – three for John Peel, and one each with Kid Jensen, Janice Long and Richard Skinner. Chronicling their development from 1982 to 1986 with lead singers Simon, Rosie and Cleo, these sessions include nine unreleased songs and alternate versions of their indie hits. Here is the unheard history of The March Violets.