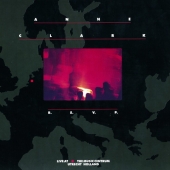 Clark Anne
R. S. V. P.
Label: Fda
Genre: 80s Wave / Rock / Pop / Punk
Anne Clark is a poet, songwriter and singer in one person. The musician conveys her sophisticated lyrics to her audience through a kind of spoken word singing. She dresses them in a sound costume primarily characterized by electronic instruments, which lends her songs a certain coolness. 1988 saw the release of "R.S.V.P.", her first concert album, recorded at the Music Centrum, Utrecht in May 1987. The keyboard-heavy band performs with routine and sensitivity. A highlight of the disc is the mystic-mysterious sounding "Cane Hill". And also with "Wallies", one of her more popular songs, Anne Clark can score.

A very successful album, atmospheric, melodic, well produced. You can literally feel the intimate atmosphere between Anne Clark and the audience present. Also successful is the interpretation of the pieces, which are intoned live yet somewhat different than in the studio, consistently more melodic.