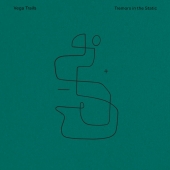 Vega Trails
Tremors In The Static
Label: Gondwana
Genre: Jazz / Avant Garde
Availability
Other Formats
Bassist and composer Milo Fitzpatrick (Portico Quartet) launches new collaborative project with saxophonist Jordan Smart (Mammal Hands)

Vega Trails is a new project from double-bassist and composer Milo Fitzpatrick, a founder member of Portico Quartet, who has also performed with the likes of Nick Mulvey and Jono McCleary and features saxophonist Jordan Smart (Mammal Hands, Sunda Arc) in a richly powerful duo bringing together two powerfully charismatic musicians. The project which takes its name from Carl Sagan's science fiction novel 'Contact' (a book about signals of new life detected from the Vega system) and was born out of a desire to bring the elements of bass and melody to the foreground in their rawest form and Fitzpatrick explains that he deliberately chose the stripped back approach.

"There is so much in just one musician's sound; the emotional, the intellectual, the vulnerability and power of their character. But often these delicate nuances can be submerged in the quest for a group sound. In Vega Trails I wanted to grant the musicians space to breathe and be heard and for the listener to witness the intimacy and depth of a conversation between two voices, bass and melody. I was also interested in how the limitations would guide both the composition and performance and to push us both to places close to the limits of what we could play, and it is in this place where I believe the character of a musician blossoms and comes forward".

Tremors in the Static was composed during Lockdown as Fitzpatrick immersed himself in music that had space and sparseness such as Swedish fiddle music and Indian Classical music. Jan Johansson's legendary 'Jazz på Svenska' (jazz versions of Swedish folk songs) was another influence, as was a collection of ancient lullabies by Spanish soprano singer Montserrat Figueras. Through exploring the harmonic and textural possibilities on the bass, Fitzpatrick would cycle riffs and motifs whilst singing melodies, and he began to create the music debuted here. However, it was only after listening to Charlie Haden's album of duets, 'Closeness', that the project would come into focus as a duo, and Fitzpatrick immediately knew that the second musician had to be Jordan Smart.

"I saw Jordan play at two Gondwana Records events – in Berlin and Tokyo. Both times I was mesmerised by the intensity and conviction of his playing. His commitment to the cause of transcending himself and the listener made a lasting impression on me. When I began writing this record, I knew I needed a strong player who had equal conviction in their playing as me, but also someone who understood the importance of melody"

It was an inspired idea as Smart brought an openness and positivity which allowed the music to be both experimental and bold. Smart's ability to play tenor and soprano saxophone with equal command, as well as bass clarinet and Ney flute, allowed them to open up the pallet of sound and pull the melodies into varying emotional landscapes. The final piece of the puzzle was the performance space. Fitzpatrick knew that he wanted the two players to react off of a third element. The music was written for an ambient space which interacted with the notes: decaying and disintegrating them into silence. They found the perfect space in a church in Fitzpatrick's local neighbourhood of Stamford Hill.

"The recording space is the canvas on which the sound interacts and flows, it is the frame in which notes can live, breathe and die and is as important as the other elements. A resonant recording space, like a church, allows this stripped back sound to resonate, echo and linger, enough to create images and landscapes in which stories can play out".

This then is Vega Trails, a project that brings together two open-mined and communicative musicians for the first time, to tell beautiful winding stories together and to create something soulful and new. Something bigger than both of them and something that leaves us all richer for hearing it. Enjoy!