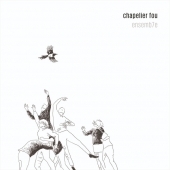 Chapelier Fou
Ensemb7e
Label: Ici D' Ailleurs
Genre: Electronica / Ambient / Experimental
Availability
CD Digi / Cardboard €13.99

In Stock
Since his debut with the "Darling Darling Darling"track, immediately spotted by the media as well as by electronic music lovers, Louis Warynski has continued to evolve a world that belongs to him alone, over the last ten years and eight albums.Like Lewis Caroll's universe, Chapelier Fou's music is multiple, simple and complex, serious and light, classic and modern. Louis Warynski's work is woven on a classical basis, but it is constantly disrupted by subtle electronic arrangements and rhythms, thus taking the tracks outside of all convention.We find in Chapelier Fou the facetiousness of French composers such as Erik Satie, François de Roubaix or Robert Cohen Solal, not hesitating to blend pop and concrete music, but also this formidable capacity to make serious what is not serious, and vice versa of course. His music, very much at home on screen as well as on stage, has everything that makes up the trait of genius composers: accessible in appearance and adaptable in all forms.

This is how Chapelier Fou has performed on stage as a soloist, juggling between violin, guitar, keyboards and pedals, in trio, quartet and even in orchestral formation with the Orchestre National of Metz. Often described as "electronic chamber music", it was expected that one day Chapelier Fou would offer us a version of his music without a single electronic or electrified part. It is now done with this Ensemb7e who performed on the stage of L'Arsenal de Metz, broadcasted by Arte Concert. Chapelier Fou Ensemb7e has received direct support from a wide audience, but also from venues programmers where the septet has been performing since June 2021. Ensemb7e stands for a mainly wooden septet: violin, viola, cello, piano, clarinet and drums accompany the multi-instrumentalist composer. It's hard to resist such musical enthusiasm! The magic happens immediately because the re-reading of these little jewels in pop format gives a touching and fulfilling dimension to Chapelier Fou's work: even more dreamy versions, sometimes more mischievous, but the richness of the classical instruments and the obvious pleasure of the musicians in interpreting them give a new life to all these titles that have filled us with wonder.

It therefore seemed obvious to us after listening to his Ensemb7e concerts that there was more than a concert to be recorded, but a real album to offer. A studio album, but with the energy and vitality of a live one, produced with the care and generosity of Thomas Poli (who has collaborated with Dominique A, Yann Tiersen and many others).