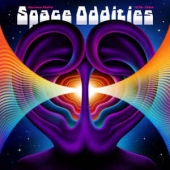 Mallia Sauveur
Space Oddities 1979-1984
Label: Born Bad
Genre: 80s Wave / Rock / Pop / Punk
In the ever-expanding universe of 70s and 80s French library music, Sauveur Mallia holds a special place; his career, multifaceted work and the uniqueness of his talent have made him an exemplary figure in the unsung world of library musicians. In those years a few of them, often for economical reasons, would set off on a space conquest, taking along just a few synthesisers. Their ambition well surpassed the modesty of their means; it was in turn the condition to their experimentations with sound which were to create a new sonic space: that of a nation tumbling into modernity. From French soil to the farthest reaches of the cosmos, there were just a few steps to take. It's with the label Tele Music, boarding the spaceship Arpadys, along with the Voyage crew, that Sauveur Mallia took the big leap.

Where are you from? Where does your desire to make music come from?

I'm of Italian descent, my family comes from the South. I was born in 1949 in Toulouse (France). My desire to make music is still mysterious to me. When I was young I was in a band with friends - it was the usual thing to do back when I started recreationally learning the bass. I loved it from the get go. I wanted to push things further so I pursued classical studies at the Toulouse conservatory, learning double bass. I was unanimously awarded the first prize, did quite a bit of classical in the philharmonic orchestra while I was also playing the bass in jazz formations and pop bands.

What did you listen to as a teenager?

Mostly American groove. Otis Redding, James Brown, etc. In the bands in which I played, we essentially did covers. We played by ear, we rehearsed a lot but we were self taught.

Why the conservatory?

To me, it was necessary because I really wanted to learn all aspects of music. I wanted to know how to read music, to learn music theory; I wanted to do things by the book.

You had decided you'd make a career in music?

It was on my mind. My goal was to go to Paris. My dream was to play in recording studios, go on tour. And that's what I managed to do; I finished my studies at the conservatory and I moved to Paris in 1973.

There were musicians in your family?

No, none. It happened to me by chance. At the time making music wasn't considered a valid career by most people. My parents were against it, and I'm not unique in that regard.

How was it when you got to Paris?

I knew no one at all. I knew the trade and how to play, I had the studios' addresses, the names of orchestras. I had a musician friend from Marseille who knew Jannick Top, Magma's bass player. I met him after a Magma concert in the South of France. We got along quite well and he said to call him when I'd go up to Paris. That's what I did. He told me to get in touch with Paul Mauriat's orchestra who was looking for a bass player to tour Japan for two months. I did the audition accompanied on the piano and had to plug my bass into his amp though I was applying for a position in an orchestra of 30-40 members who played elaborate variété. It worked out and that's how I got my first job.

How did the tour in Japan go?

We went around all of Japan, then to Korea as well as Hong Kong and Shanghai in China. It was my first trip and I was blown away by Japanese professionalism. And so I did 5 or 6 tours with Paul Mauriat. When I got back to Paris he hired me to play on his records. That's how I first got into Parisian recording studios. One thing leading to another I managed to make a reputation for myself and I was being solicited by arranger-conductors. I ended up working with all the big names of 70s, 80s and 90s French variété: Nougaro, Jonasz, etc. I was immersed in that great era of French chanson.

And in parallel did you want to make your own music?

It wasn't the case right way. But when Disco arrived in 77 / 78, I was part of a bass, guitar, drum, percussions and keyboard team that went around all the studios. I had played on Cerrone's records, and we decided to form a band, Voyage. We went to London to record an album in Elton John's studio with his sound engineer. The experience was amazing, and the record was a hit worldwide. As we were studio musicians who had played on a successful commercial album, everyone called us, we did all the sessions, worked non-stop; we were exhausted. People are superstitious in the music world: they always want the winning team. And right then that was us.

You had also formed Arpadys with the members of Voyage…

Arpadys was me with the same team. I composed, arranged and recorded Arpadys with the same producer as for Voyage, Roger Tokarz. In that period I was listening to German bands a lot, like Kraftwerk, Klaus Shulze and Tangerine Dream. I was very much into space music and I started working at home with my synths. The approach was completely different than to what I was used to as a professional bass player.

Which synthesisers were you using?

Old mono stuff, not even polyphonics. Three Korgs and some Moogs. I didn't use drum machines yet, but played with the drummer of Voyage. I recorded drum and guitar parts in the studio then went to England for the mixing. But most of the album was recorded at mine.

You had an interest in science-fiction?

I never saw aliens but always thought: "why not?" Maybe we're not alone. You know, I might be an alien without even knowing (laughs)

When did you start making library music?

I always worked with Roger Tokarz, who produced Voyage and Arpadys. With my friends who were members of Voyage we also made library records for his label Tele Music with different themes we proposed based on sports, the news, etc. I worked in my studio. Originally Arpadys was a library record Roger wanted to commercially release, Industrial Rock. Not much came out of it at the time, yet its become really sought-after in recent years. I was even contacted by and English guy who wanted to get Arpadys back on stage.

Was library music a way to experiment freely?

Yes, I did what I wanted, without any restriction. Then people used it or they didn't. On each record, there were long versions of each track and we made 60, 30 and 15 second edits – it gave medias the choice. The constraints came with custom sound-design for the radio, with jingles and France Info's credits I made at home solo with my machines for 17 years, then for RTL, Europe1, and for quite a few TV shows.

During the 70s and 80s you were very productive making library music…

Hang tight! I made 120 albums with Roger Tokarz. I did that plus a lot of outdoor recording. I was working all the time – and I worked fast.

What are your views on these productions today?

I don't personally like listening to what I made back then, because I hear the flaws; the gear we used was a bit empirical. I was working with a 4-track, and really we were just fiddling about to make sounds, to stack them up. Then I got an 8-track, but anyway… That's why I don't like listening to theses records; I find the sound quality quite poor compared to what we can do today.

It was the occasion for you to experiment?

Yes, for example when sampling emerged I used it right away. I started incorporating samples and altered human voices. We did everything we wanted on these records, I had a lot of freedom. When you have an idea for a track you don't really know where you're going at first. It's the blank slate, you throw on a beat, some sounds, harmonies, a bass part and then everything comes together. There's no exact science. It was improvisation we'd later try to frame. But at the outset there's nothing at all.

Did you keep everything or did you get rid of some tracks?

No, there were things I'd bin. Because when it doesn't start well there's no way to make up for it. On the other hand when it does it only gets better.

How long did it take you to make a library album?

It varies, but around three to fours months in general for a minimum of 12 tracks, knowing that I did everything: I'd program the drums, play the bass, guitar, keyboards, I'd make the arrangement, sound and mixing. It was impossible to work on two records at once, though it's what Roger dreamed of: he thought with a track you could get many just by pressing a button. That's how Roger was (laughs)

Were you in relation with other musician who made library music at the time?

A bit. We started by working for independent editors like Roger, then there was Tele Music, Coca media and others. When computers arrived, everyone could do as if they were musicians and loads of people started making library.

Was it profitable?

Regarding royalties, it depends. It was for me. For it to be profitable, for the music to go on the radio, the TV, so that it gets used, you have to have a lot of them. France Info represented 70 credits per day. Each benefit on its own was modest but their sum was lucrative.

Are you surprised there's a surge of interest for your music?

I have been. I didn't really understand. I got quite a few emails from abroad. But then I realised there was a peculiar sound to these albums that attracts people today. It became evident at Arpadys' reunion concert in London. There were 2000 people, mostly young, and they were surprised we were playing live, with instruments. DJ sets are more common these days. They were shocked and it was a big hit.