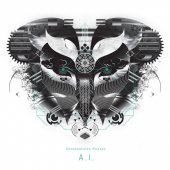 Kouzas Konstantinos
A. I.
Label: Numb Capsule
Genre: Electronica / Ambient / Experimental
Availability
CD Digi / Cardboard €12.99

In Stock
This album is dedicated, to all researchers of cognitive psychology and especially those on the field of artificial intelligence.

It took me almost two years to realize, after many studies on contemporary sound and production techniques, that took place in various locations and cities.

Being a music project, i hope, that it will accompany its listeners, in various meaningful moments of their lives.