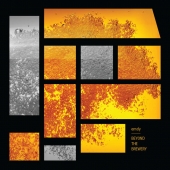 Emdy
Beyond The Brewery
Label: Numb Capsule
Genre: Electronica / Ambient / Experimental
Availability
CD Digi / Cardboard €10.99

In Stock
About// Beyond The Brewery:

"Beyond The Brewery" is the second complete album by emdy (Anastasios Kokkinidis) and released on Numb Capsule Records. The official release date is Friday 08 April. The nine tracks of the album were arranged and produced between 2003-2005.

A journey through experimental frequencies from the past to the present of electronic music. Combines elements from the early IDM scene to a next glitch and glofi level. Tantrums, pauses, dynamic drum programming and unexpected atmospheres. A musical adventure that intrigue the listener through rhythms and subversive motifs.

_____________________________________________________


About// emdy (Anastasios Kokkinidis):

Anastasios Kokkinidis is a composer, producer and musician, active at the era of electronic and electro-acoustic music scene. His composition pieces, with a clear-cut experimental agenda, that has managed to remain musically intense and emotional. An amalgamation of a detailed sound design taking on various music styles, from electronic and experimental music to cinematic, minimal, avant-garde and dance music, in several electronic-based music pieces. Engaging in contemporary fields of composition, creating the sense of contrast between the experimentalist scene and music simplicity, stretching creativity and multiplicity in the production development. Studied in Brighton, graduating in Digital Music, having specialised in sound production and composition. Also studied classical music from 1986 to 1999, with the piano being his main instrument and Electronic Music back on 1996. Expanding his experience on different compositional areas in 2005, he completes an M.A. in Composing for Film and Television, in London. Nowadays, works as a lecturer in Music Technology & Sound Engineering courses, as a freelance composer and music producer while doing masterings for various artists & labels releases. Involved in the electroacoustic medium, becomes member of E.S.S.I.M. (Hellenic Electroacoustic Music Composers Association), while records under the name "emdy". His music works have been presented live through electronics, performances, releases and installations...