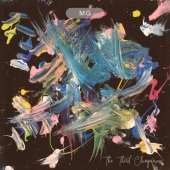 Gore Martin
The Third Chimpanzee E.p.
Label: Mute
Genre: Electronica / Ambient / Experimental
Availability
MLP + MP3 COUPON €20.99

In Stock
The Third Chimpanzee is the brand new EP from Martin Gore, one of the founding members and primary songwriter of Depeche Mode. Over five brand new tracks Gore explores euphoric modular sounds and develops his career long relationship with electronic music. The EP follows his eponymous album MG in 2015 and SSSS, his collaboration with Erasure's Vince Clarke for their VCMG project. The artwork was created by Pockets Warhol, a capuchin monkey based in Canada who paints for charity. Martin Gore was inducted into The Rock & Roll Hall of Fame as a member of Depeche Mode in 2020.

Azure blue vinyl. Includes art print.