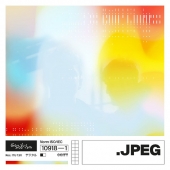 Digitalism
Jpeg
Label: Magnetism Recording Co.
Genre: Electro / Electro-Rock
Availability
LP x2 €24.99

Dispatched within 5-10 working days
JPEG is the 4th album from German legends Digitalism, released on their own label "Magnetism". The Hamburg-based electronic music duo formed in Hamburg in 2004, consisting of Jens "Jence" Moelle and ?smail "Isi" Tüfekçi. Digitalism has released records on labels such as Gerd Jansons Running Back Records, Kitsune, Virgin, Dynamic Records, Boys Noize Records, Astralwerks and PIAS and has throughout the years played all over the world at famous venues, clubs and festivals. They are also highly regarded for their remixes for acts such as Daft Punk ,Depeche Mode, Superorganism, Mø and many more. Digitalism have became synonymous with unique electronic productions, a crossover sound with roots in both indie, techno and pop. Digitalisms music also appears in countless video games and syncs (Recent campaigns Nissan Leaf, past campaigns Vodafone, Fifa, Gran Turismo and many more).