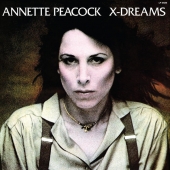 Peacock Annette
X-dreams
Label: Sundazed
Genre: 60s / 70s Rock / Pop / Progressive / Kraut
Arriving in 1978, X-Dreams is an infatuating and resolutely feminine free-form exploration of the politics and dynamics of sex. In the pursuit to reconcile the duality of attraction & repulsion and love & cruelty, the album oscillates between an assertive opening side and a sweeter side B. Assembling a crew of 22 musicians (including Mick Ronson on guitar and Bill Bruford on drums), Peacock delivers impassioned vocal performances alongside an improvisational jazz-rock fusion masterpiece of musicianship, almost all of which was recorded in one take.

Self-taught musician and composer Annette Peacock has described her early style as "free-form" songwriting. She came to prominence in New York City's early 1960s jazz scene alongside players like Ornette Coleman, an association that puts her at the helm of what we now consider the free jazz movement.

For all its complication, her approach suggests that music can and should be made by any one, in any way they want, with any one they want. She may talk-sing her lyrics through a melody like a Beat poet. She may wail out of her throat like a saxophone. She may invite another instrument to the podium to make its own statement. Or, she may rest a note out in the open, confidently enthroned on an apex of self-governance. Where most musicians riff, she creates sonic space.

Gold vinyl.