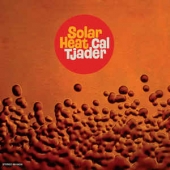 Tjader Cal
Solar Heat
Label: Sundazed
Genre: Jazz / Avant Garde
Availability
LP €28.99

Dispatched within 5-10 working days
Sultry Tjader jazz! Vibraphone legend Cal Tjader's fusion of different genres and styles was an acute influence on Carlos Santana (and Latin rock as a whole). On Solar Heat he stirs in tastes of Exotica, Funk, and of course Latin and Jazz elements on this 1968 set of jazzed-up pop chestnuts and original bossas like the delicious "Fried Bananas." Pressed at RTI, on colored vinyl!

A STUNNING RECREATION SOLAR HEAT OF THE ORIGINAL GATEFOLD JACKET!
PRISTINE GOLD RTI VIRGIN VINYL!
MASTERED BY BOB IRWIN, CUT BY KEVIN GRAY, AND PRESSED AT RTI FOR OPTIMUM AURAL PLEASURE!