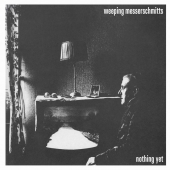 Weeping Messerschmitts
Nothing Yet
Label: Optic Nerve
Genre: 80s Wave / Rock / Pop / Punk
Availability
7" €12.99

Dispatched within 5-10 working days
Hailing from Wolverhampton, Weeping Messerschmitts gave us one absolutely cracking 12", released on Upright in 1986 and then disappeared . Previously only available on 12" only we bring you 2 of those tracks on 7" for the very first time.

Coming out of the West Midlands Weeping Messerschmitts cut their teeth supporting schoolfriends The Mighty Lemon Drops.

Initially called The Railway Children (until another band from Manchester nicked the name and pressure from lawyers at Virgin Records forced a change.) and briefly managed by Gerry Cott of The Boomtown Rats (until a disagreement about the bands direction, forced him to quit) the Messerschmitts gigged constantly all over the UK, creating quite a buzz, building a following and gaining favourable reviews from the music press.

It was no surprise that they were soon offered contracts with 3 major labels before choosing to take the indie route with Upright Records. For whom they recorded one of the greatest lost indie records of the 80's. Unfortunately, this was to be their only release before splitting in 87.