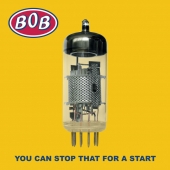 Bob
You Can Stop That For A Start
Label: Optic Nerve
Genre: 80s Wave / Rock / Pop / Punk
Availability
LP + MP3 COUPON €22.99

In Stock
The album is accompanied by a selection of some of the band's favourite demo recordings made between 1988 and 1994.

The long awaited and eagerly anticipated new album by BOB captures the band at their peak and includes some of their best material ever committed to vinyl and CD. A 12-track vinyl record is available in coloured and black vinyl and includes digital download of all 28 tracks contained on the double CD version. 'You Can Stop That For A Start' is an exclusive album of previously unheard material written and recorded by BOB over a five day period in 1992. The almost legendary archive of unreleased professional and demo recordings by BOB is a rich one, and this release showcases some of the band's best work.

All the recordings in the set have been newly mixed by songwriters Simon Armstrong and Richard Blackborow, and come packaged in artwork conceived by the band and accompanied by period images and new sleeve notes.

Indies only white vinyl, 200 copies.