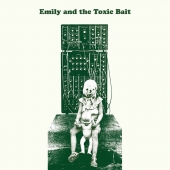 Emily And The Toxic Bait
Burning Doll
Label: Mutant Embryo Records
Genre: Electro / Electro-Rock
Mutant Embryo Records presents a monster electronic weirdo. Bedroom electronics meet synth-punk, minimalism & spirituality!
Spiros Rouchotas latest works straight from his sound laboratory.
Analog synthesizers, sequencers, rhythm boxes, voices, effects, more composing a vintage minimal sound covered by creepy, peculiar atmosphere.
Housed in 300gsm laminated cover with hot foil silver printed dark-green velvet textile on overbag, black polylined innersleeve, taped 'Morse code' numbered sticker, sealed.
Cut LOUD on lacquer with superb analog sound & dynamics. Limited edition of 100 numbered copies.