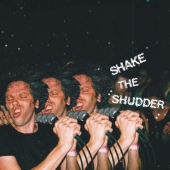 Chk Chk Chk
Shake The Shudder
Label: Warp
Genre: Electro / Electro-Rock
Availability
LP x2 +MP3 COUPON €25.99

Dispatched within 5-10 working days
!!! (Chk Chk Chk), the venerable New York City dance-punk band, have announced the release of their newest album, Shake The Shudder, out May 19th on Warp Records. Recorded at the band's home studio in Brooklyn, produced by longtime collaborator Patrick Ford at Taaffe Palace, and mixed by dance luminaries Phil Moffa, Joakim and Matt Wiggins, the album features a cast of changing singers from Lea Lea, Meah Pace, Nicole Fayu, Cameron Mesirow and Molly Schnick.

The album title is a fancy way of saying "shake it off and dance your cares away." !!!'s post punk roots mean the band will always be pushing forward to new sounds but their tastes remain grounded in some form of funk and increasingly in various electronic dance styles. The idea for the new album was born from jamming in Barcelona, and spending months afterwards cutting those recordings into loops to form new songs. Back at home in Brooklyn, lead singer Nic Offer poured over his roommate's disco breaks. To push their boundaries, the band implemented the policy of more liberal sampling techniques as well as using whatever keyboard was available with the attitude of "there's no such thing as a bad synth," using sounds they wouldn't ordinarily use. This also includes having multi-instrumentalist Rafael Cohen's daughter featured on their song "What R U Up 2day" and the use of horn on "R Rated Pictures."

Thematically, Shake The Shudder reflects a band that has been together for twenty years. In the band's early days, they had the typical punk attitude, pointing fingers at everything that's going wrong in the world to cover up for their own inner turmoil. Now the band, older and wiser, are more comfortable with being more vulnerable, looking inwards instead of reacting outwards. To them you do this through friends, music, dancing, lovers… for Shake The Shudder, the sound of protest can be a march or it can be a sick groove paired with some short shorts.