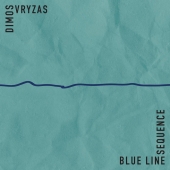 Vryzas Dimos
Blue Line Sequence
Label: Submersion Records
Genre: Electronica / Ambient / Experimental
Availability
TAPE + MP3 COUPON €7.99

In Stock
Blue Line Sequence is the second solo album of Dimos Vryzas, a songwriter and composer from Thessaloniki, Greece. Using violin, his voice and various other instruments, his musical focus is free improvisation which he studied alongside Fred Firth and Alfred Zimmerlin.
Dimos has adopted unique creative approaches that allow him to explore the limitations of violin, and work with acoustic and electric sounds to find new ways of expression influenced by a spectrum of musical genres ranging from classical and folk, to rock, noise and ambient. His experiences include collaborations with various musicians, composers, directors, visual artists and dancers across Europe, writing and performing music in interdisciplinary projects.
With a long line of critically acclaimed releases behind him; 2 albums as Unshaped_Ahead, 2 collaborative albums with Circa 19 and Eva-Maria Karbacher and 1 solo album, this is Dimo's second solo release. Blue Line Sequence upholds to the improvisational approaches that characterise this body of work but at the same time expands Dimo's sonic explorations to the fields of ambient - atmospheric music. The music in this album expresses essentially an Avant Garde stance, where musician and listener explore the idea of playing ambient music using a violin, loops, effects and a few other instruments expanding popular conceptualisations of how such music can be created. Headphones are a must for this album as it shows the potential of transporting the listener to some alternative plane of reality where everything floats and moves at a mesmerising pace. The general feeling this piece of work emanates is that of watching objects, stories and ideas swim around the listener, previously submersed in our individual and collective consciousness.