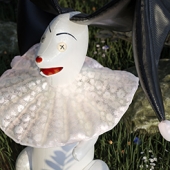 Ploho
Phantom Feelings
Label: Artoffact
Genre: Dark / Post Punk / Gothic / Neo-Folk
Availability
LP €26.99

Dispatched within 5-10 working days
Russian post-punk rising stars Ploho release their new album on Artoffact Records. Siberian sovietwave trio Ploho records music which combines early post-punk, new wave and Russian rock, while drawing inspiration from the aesthetic and sounds of the late 1980s and early 1990s. The band's cold and depressing sound evokes the hopeful yet fearful era of the Soviet Union just before its collapse, and their popularity has led to a viral hit collaboration with Molchat Doma.
A must for fans of Molchat Doma, Drab Majesty, Kaelan Mikla, Cold Cave.

Limited edition clear vinyl.